Karstulantie 6
00550 Helsinki
Finland
Tel +358 (0)9 774 751
Fax +358 (0)9 730 090
www.ava.fi
varaukset@ava.fi (reception and reservations)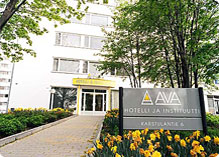 A limited number of rooms has been reserved for workshop participants at Hotel AVA. This hotel is in walking distance from FMI (see "Location" page). The participants are themselves responsible for booking their hotel. In order to reserve accommodation at Hotel AVA, please send e-mail to varaukset@ava.fi before January 31, 2009. In your e-mail message mention the reservation code 'MagNetE Workshop'. Please also indicate late arrivals (after 6 pm). Note that the reception of the hotel is closed by 10 pm.
The rate of a single room is 70 €/night and of a double room with kitchenette 95 €/night. Breakfast is 6.50 €. Other room types are also available. Further information may be found from hotels home pages www.ava.fi.
If you prefer to stay in a different hotel, or in case the rooms in the AVA hotel are fully booked, a general (not complete) list of hotels in Helsinki can be found from this link.