MIRACLE data analysis tools
2) 1D-upward field continuation of the X component of a north-south IMAGE magnetometer chain to the ionosphere; electrojet detection:
- Short description of the analysis method:
The X component data of a 1D north-south chain is continued upward to the iononsphere. Two versions of this method are existing:

1.) A version that works in cartesian coordinates and uses the field continuation operator in Fourier space (see Mersmann

et al.

, 1979).
2.) A version that works in spherical coordinates and uses 1D Spherical Elementary Current Systems (SECS) (see Vanhamäki

et al.

, 2003).

The upward continuation can be performed with both versions quickly for a whole range of time.
- Input data requirements:
IMAGE magnetometer data of the chain NUR-NAL (X components; see MIRACLE map for stations overview). Additionally, the east-west chain AND-KEV is used to estimate the validity of the 1D assumption.
- Output quantities:
Upward continued X component on the ionospheric height, equally spaced on a north-south profile.
- Literature:
Mersmann, U., Baumjohann, W., Küppers, F., and Lange, K., Analysis of an eastward electrojet by means of upward continuation of ground-based magnetometer data, J. Geophys., 45, 281, 1979.
Untiedt, J., and Baumjohann, W., Studies of polar current systems using the IMS Scandinavian Magnetometer Array, Space Sci. Rev., 63, 245, 1993.
Vanhamäki, H., O. Amm, and A. Viljanen, 1-dimensional upward continuation of the ground magnetic field disturbance using spherical elementary current systems, Earth Planets Space, 55, 613, 2003.
- Example plots:
This is the input data: measured X components of MIRACLE magnetometers on January 23, 1999, as they can be found in the IMAGE online magnetogram page. For the analysis, we use an approximately north-south aligned chain of stations, reaching from NUR to NAL (see MIRACLE map).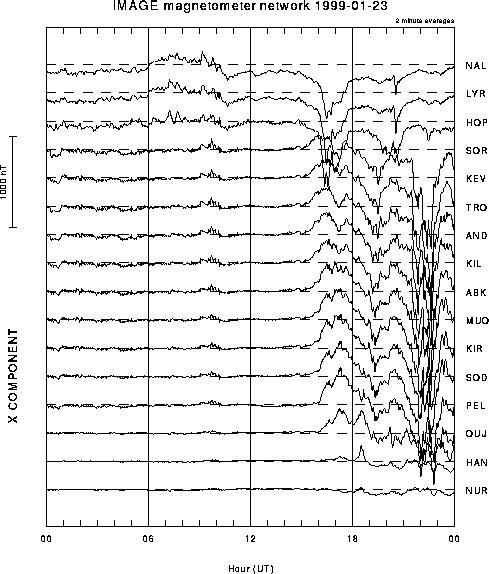 This plot shows the upward continued X component (on the ionospheric height) during the interval 16-20 UT (for these plots, the cartesian version of the method has been used):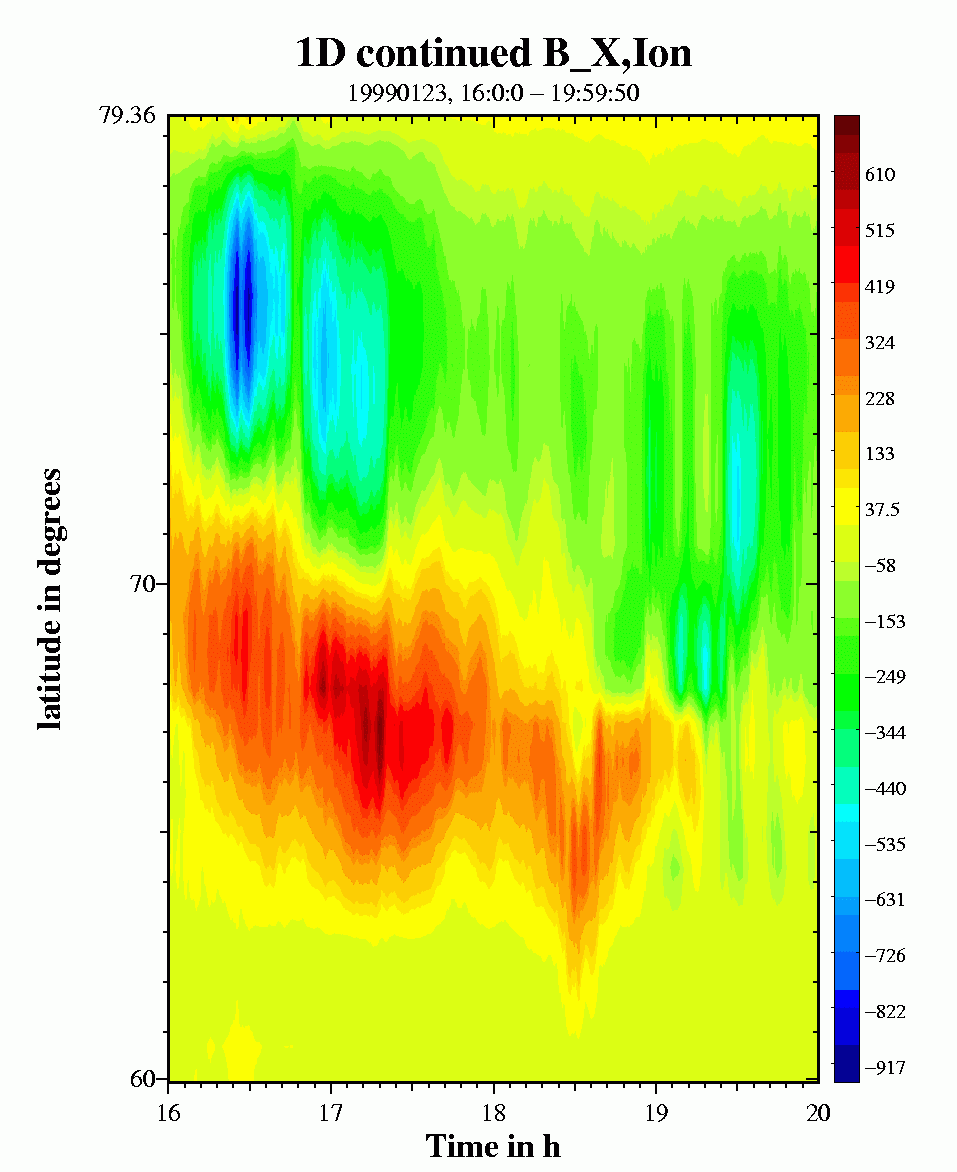 Detection of eastward and westward electrojets is then easy, since they are just bounded by the X=0 lines; they can be displayed separately by showing only the positive or negative part of the above figure:
a) Eastward electrojet: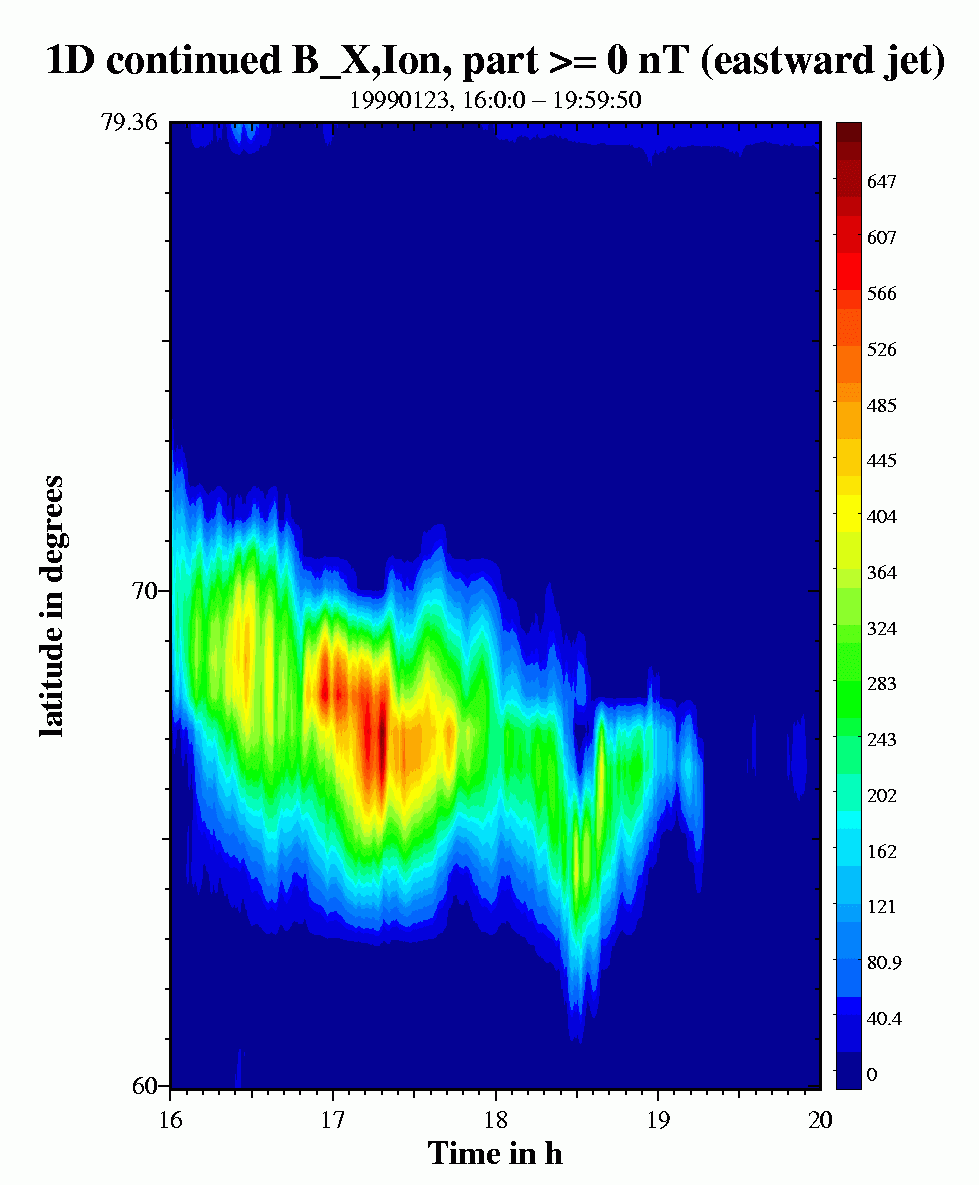 b) Westward electrojet: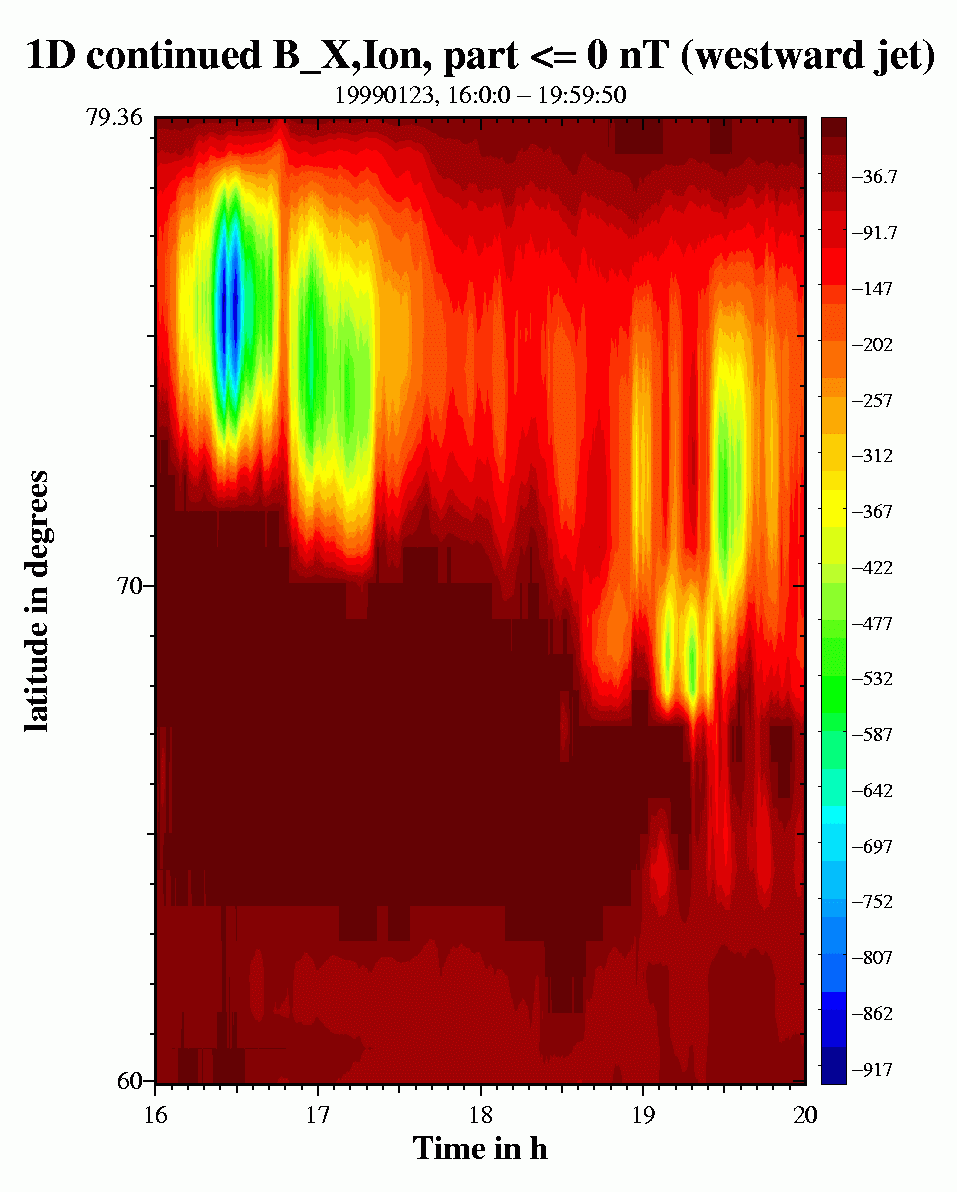 Note that multiplication of BIon with 2 /

0gives directly the (equivalent) current density of the electrojets in the ionosphere.

For further questions contact Olaf Amm or Heikki Vanhamäki.

---
Maintained by: Olaf Amm
Latest update: 02.04.2004