Erik Palménin aukio 1
00560 Helsinki
Finland
Tel +358 (0)9 19291
www.fmi.fi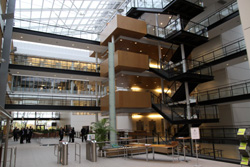 The Workshop will be held at the office building of the Finnish Meteorological Institute, Dynamicum building (poster sessions) and, next door, at the University Campus, Exactum auditorium (oral sessions). Information on transport options to and from downtown Helsinki will be provided in this space.
Directions:
From the airport to FMI
The Helsinki-Vantaa airport
is located in the city of Vantaa, about 20 km north of Helsinki city center. The easiest way to reach the FMI from there is to take a taxi (≈ 30 €).