A record low spring-time total ozone column over Sodankylä was measured on 6 April 2020. The new minimum ozone in February-April is 226 DU, while the previous lowest ozone column, 238 DU, was observed in March 1996 and ozone columns below 250 DU have only been measured in 1993, 1996, 2000, 2011 and 2016. On average the ozone column this time of year is 392 DU.
Significant ozone reduction was observed at 16.5-20 km altitude in the stratosphere according to an ozonesonde measurement on April 6. During the sounding, the observed total ozone was 227 DU. The low ozone column was a result of unusual ozone depletion in the stratospheric vortex and secondly was influenced by relatively high tropopause altitude.
Due to low ozone and high reflectivity of the snow cover, UV index over 3 was measured in Sodankylä on 6 April, which is the highest UV index recorded for that time of the year. On average the UV index is around 1.5 in the beginning of April. If low ozone air mass is still over Finland at Easter, UV indices over 3 are expected in cloudless conditions. The Brewer spectrophotometer #037 has measured total ozone at the Arctic Space Centre since 1988 and spectral UV radiation since 1990.
The unusually low total ozone is caused by extremely low temperatures in the stratosphere and strong polar vortex. There has been less ozone transported from the tropics and the chemical ozone loss has been accelerated by long lasting cold temperatures in the stratosphere. More information about this year's unusually high ozone loss can be found in https://www.nature.com/articles/d41586-020-00904-w , http://www.esa.int/Applications/Observing_the_Earth/Copernicus/Sentinel-5P/Unusual_ozone_hole_opens_over_the_Arctic and https://www.ilmatieteenlaitos.fi/tiedote/1270324366 (in Finnish)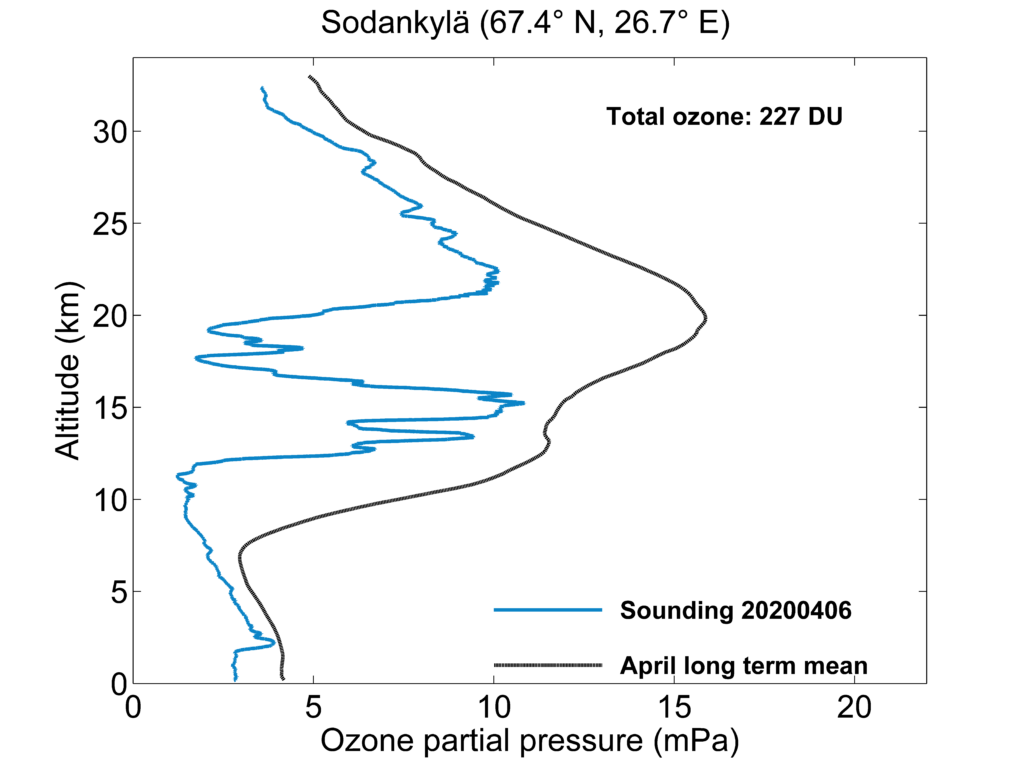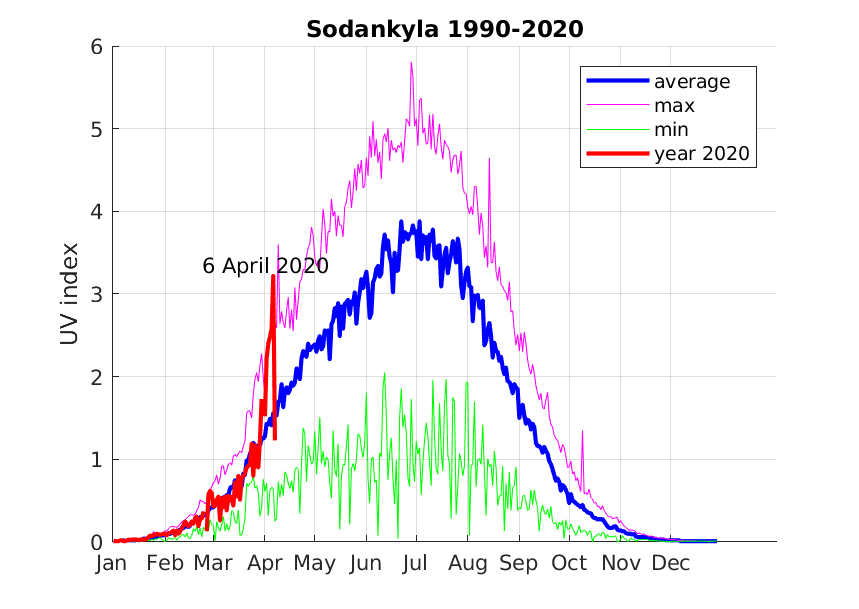 Further information:
https://www.ilmatieteenlaitos.fi/tiedote/1270324366
Total ozone measurements: Tomi Karppinen, tomi.karppinen@fmi.fi
Ozone soundings: Rigel Kivi, rigel.kivi@fmi.fi
Ultraviolet radiation measurements: Kaisa Lakkala, kaisa.lakkala@fmi.fi