Nitrogen oxide (NOx) and methane (CH4) emissions over Tas-Yuryakh and Talakan oil fields in Sakha Republic (Eastern Siberia, Russia) have been estimated using multi-satellite observations. The emissions are linked to oil production and associated gas flaring activities.
Crude oil production activities and associated gas flaring are responsible for significant air polluting and greenhouse gas (GHG) emissions and have negative effects on the environment and climate. In Russia, one of the world's major oil producers, gas flaring remains a routine practice despite regulatory policies.
Researchers at FMI analysed the emissions over Russian Tas-Yuryakh and Talakan oil fields using satellite data. While the oil production is three times larger in Talakan, the estimated NOx emissions are less than half of those in Tas-Yuryakh, where gas flaring is employed routinely during oil production. On the other hand, in Talakan the associated gas is reutilized for heat and power generation, and gas flaring is limited to maintenance during summer.
Methane emissions detected in Talakan oil field
Large methane enhancements have been detected near the Talakan oil fields, with estimated CH4 emissions around 28 tonnes per hour. Methane emissions can be caused by venting, leakages or the outflow from the gas flaring. Accurate and timely emission estimates are important to evaluate the impact of the replacement of coal-based energy systems. The results are based on observations collected by different satellite platforms: TROPOMI/S5P (TROPOspheric Monitoring Instrument/ Sentinel 5 Precursor), VIIRS onboard Suomi NPP and Sentinel 2.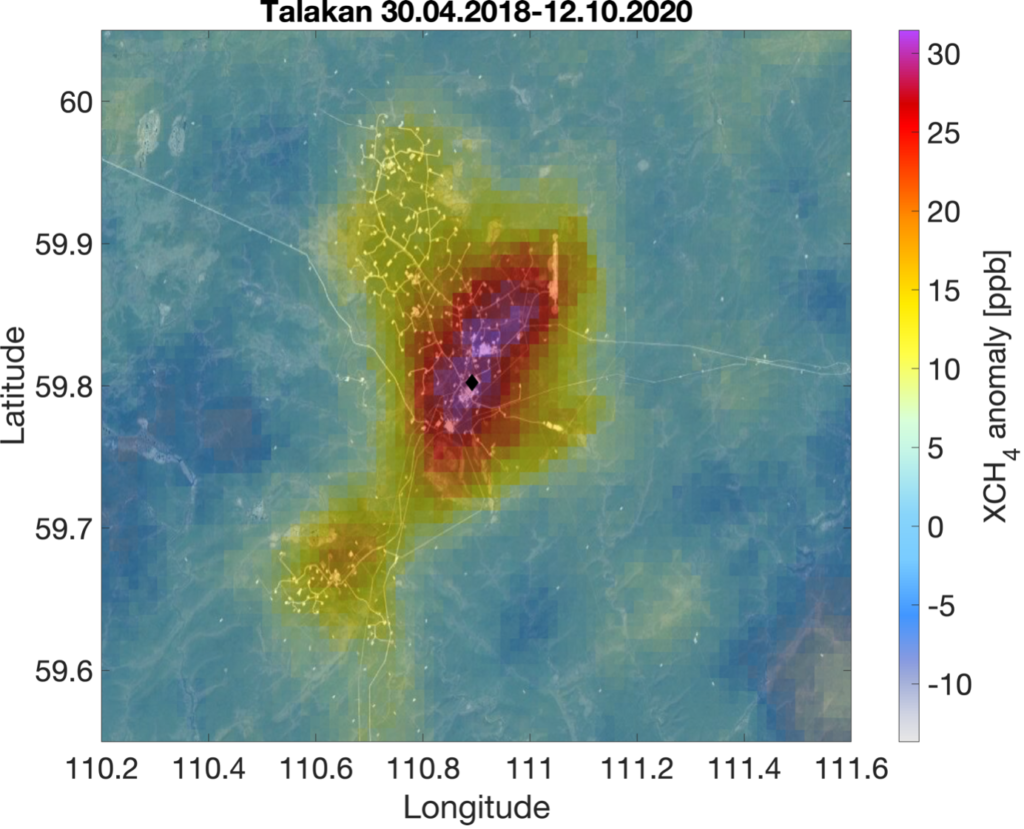 The research was carried on in collaboration with Aleksanteri Institute (Department of Social Science at the University of Helsinki) within the ESA DACES project and also supported by the Academy of Finland.
More information: Senior Research Scientist Iolanda Ialongo, Finnish Meteorological Institute, name.surname@fmi.fi
Ialongo, I., Stepanova, N., Hakkarainen, J., Virta, H., Gritsenko, D.: Satellite-based estimates of nitrogen oxide and methane emissions from gas flaring and oil production activities in Sakha Republic, Russia, Atmospheric Environment: X, 100114, ISSN 2590-1621, https://doi.org/10.1016/j.aeaoa.2021.100114, 2021.